One Skillet Chicken with Lemon Garlic Cream Sauce
This post may contain affiliate links. Please check our privacy and disclosure policy.
Say hello to your new favorite one skillet chicken dinner that's topped with a lemon garlic butter cream sauce! I used thin chicken breasts, but this recipe would be delicious with boneless chicken thighs too!
Hello, hello to my new favorite creamy, garlicky, lemony, delicious skillet chicken!
You guys, I've gone completely head over heels for today's meal (I didn't mean for that to rhyme.
As many of you have probably guessed, I have a love for white meat chicken. It's no dark meat for me. But the good news is that today's chicken dinner is customizable to your chicken needs. Boneless skinless chicken thighs, sure, why not! *Applause* you've only just waited half of FOREVER for me to bring you something that could be made with something other than boneless skinless chicken breast.
This one skillet chicken recipe is my go-to chicken dinner of the week decade. Obvi, this recipe requires just one pan. Which means, we make the chicken and the sauce – that's right – in just uno skillet-o. We're talking tender chicken, covered in a lemon garlic butter sauce that's creamier than anything you've had before. Someone, please, throw some capers up in the sauce! This only *just* hit me now, but I'm totally doing it next time, pinky promise.
Should I just stop here? Are you on your way to the kitchen, cuz ya should be!
One Skillet Chicken with Lemon Garlic Cream Sauce Video:
This recipe is somewhat, kinda sorta adapted and inspired by my Garlic Butter Salmon in Foil.
What makes this chicken with lemon garlic cream sauce recipe special?
We're using a lot of the same ingredients like butter, lemon juice, garlic, red pepper flakes, and parsley. What makes this chicken dinner to the next level is chicken broth and a big splash of heavy cream. The sauce has a nice creamy consistency that would taste AMAZING tossed in some angel hair pasta. The pasta-abilities are ENDLESS. See what I did there.
How to make one skillet chicken with lemon garlic cream sauce:
Get those chicken breasts cooking on both sides. You don't have to worry about cooking the chicken all the way through. We're just looking to get some color on the chicken and for all those wonderful flavor bits to form in the bottom of the pan. The 'flavor bits' are going to be deglazed with chicken broth and lemon juice to make the lemon garlic cream sauce for this skillet chicken.
If you're using chicken breasts or boneless skinless chicken thighs, just make sure that all of them are about the same thickness. Mine were about ½-¾ inch thick. I browned each side of the chicken for just 2 minutes. Don't worry about cooking the chicken all the way through as we're going to finish the sauce and the chicken together in the oven for a quick 5 minutes.
To be honest with you, I was a little intimidated by the idea of adding heavy cream to a lemon sauce. I had the biggest fear of it curdling on me. I find the trick is to use just a couple of tablespoons of lemon juice and to reduce it with the chicken broth. Once that's done, I lowered the flame and melted some butter into the sauce. Finally, taking the sauce off the heat completely, I whisked in the cream and placed it back on the flame for just a couple of seconds. Don't let the sauce come to a boil. And it worked, beautifully! And can I say something? This is the best lemon garlic cream sauce I've ever had! A big pat on the back. Checking the cream sauce off my culinary bucket list! Hooray!
But with victory came pain! I pulled the skillet out of the oven, placed it on the store and lost in thought, a few seconds later I decided to grab the handle WITHOUT an oven mitt. UMM… OUCH! NOT FUN! Hand burning! Feels like fire ants having a picnic in my palm! That's definitely going to leave a mark!?
So once the pain finally subsided from my burning hand, I topped off this one skillet chicken dinner with a handful of chopped parsley and a little basil. Use whatever fresh herbs you've got on hand, you really can't go wrong!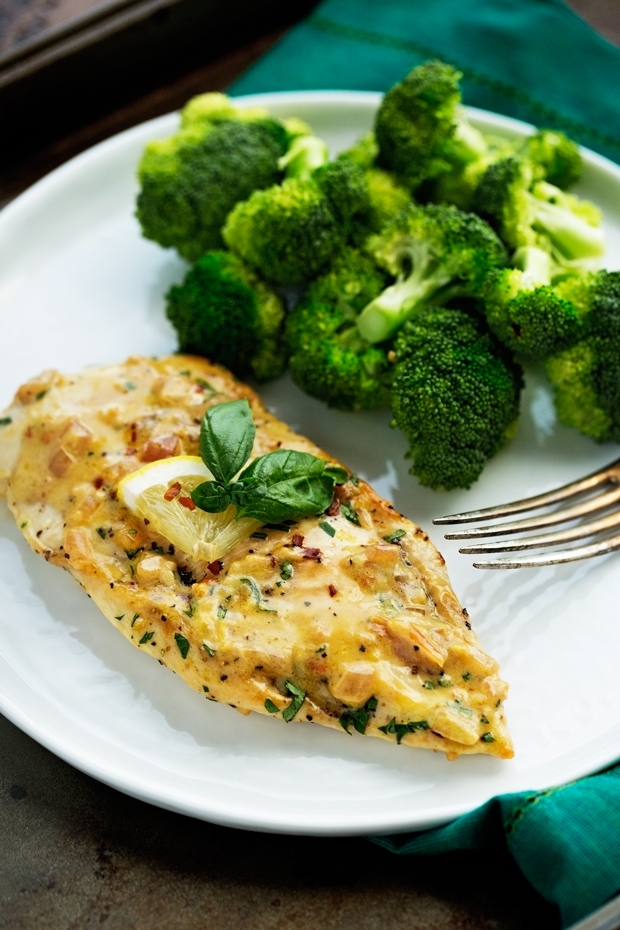 I served it up pretty simple this time around: just a little sauteed broccolini and a side salad. You could always do a little rice to catch all that sauce. Pasta is always perfect with a lemon garlic cream sauce.
One skillet chicken dinners and conquering kitchen fears. Just a regular old Wednesday around here! 😉
shop this chicken with lemon garlic cream sauce post:

Yield: 4 servings
One Skillet Chicken with lemon Garlic Cream Sauce
Say hello to your new favorite one skillet chicken dinner that's topped with a lemon garlic butter cream sauce! I used thin chicken breasts but this recipe would be delicious with boneless chicken thighs too!
Ingredients
4 boneless skinless chicken breasts (or thighs)
salt and pepper
1 cup chicken broth
2 tablespoons lemon juice
1 tablespoon minced garlic
½ teaspoon red pepper flakes (or more to taste)
1 tablespoon olive oil
⅓ cup finely diced shallots (or red onions)
2 tablespoons salted butter
¼ cup heavy cream
2 tablespoons chopped parsley or basil
Prepared broccolini, for serving
Instructions
Using a mallet, pound down the chicken breasts/thighs into ½ inch thickness. Sprinkle a pinch of salt and pepper on both sides of the chicken.
In a 2 cup measuring cup or a small bowl, combine the chicken broth, lemon juice, garlic, and red pepper flakes.
Position a rack in the lower third of the oven and preheat the oven to 375ºF.
Heat the olive oil in a large oven-safe skillet over medium-high heat. Add the chicken and allow it to brown on both sides for 2-3 minutes per side. Don't worry if the chicken isn't cooked thoroughly; we'll finish it in the oven. Remove the chicken to a plate.
Reduce the flame to medium, and add the shallots to the skillet along with the chicken broth mixture. Using a whisk, scrape the bottom of the pan so all the brown bits are loosened. Kick the heat back up to medium-high and let sauce come to a simmer. Continue to cook the sauce for 10-15 minutes or until about ⅓ cup of the sauce remains.
When the sauce has thickened, remove from the flame, add the butter and whisk until it melts completely. With the skillet off the flame, add the heavy cream, whisk to combine. Place the skillet back over the flame for just 30 seconds, DO NOT allow the sauce to boil. Remove from heat, add the chicken back into the pan and drizzle the sauce over the chicken. Place the skillet in the oven for 5-8 minutes or until the chicken is completely cooked through. Top with chopped parsley or basil and serve warm with additional lemon slices. Serve with prepared rice, pasta, or sauteed veggies on the side.
Notes
Use boneless skinless chicken breasts/thighs that about the same thickness. I pounded mine down to about ½ inch.
After a few comments from readers, I've adjusted the amount of time it takes to reduce the sauce (step #5). Keep in mind, the key is to reduce it to ⅓ cup and that I can only provide an estimate. It may take you more or less time than what is actually listed.
If you like this chicken with lemon garlic cream sauce recipe, you might also like:
We are a participant in both the RewardStyle and Amazon Services LLC Associates Program, which are affiliate advertising programs designed to provide a means for sites to earn advertising fees by advertising and linking to amazon.com and through RewardStyle.