Cheesy Ranch Roasted Potatoes
This post may contain affiliate links. Please check our privacy and disclosure policy.
Ranch roasted potatoes spiced with chili powder, garlic, and smoky cumin. These are roasted till they're golden and crispy, then topped with scallions, sharp cheddar cheese, and my ranch greek yogurt sauce! So good you just can't stop!
Can't stop… Won't stop.
These ranch roasted potatoes are making me crazy. They have my heart ♥
You guys. I can't stop making potatoes or eating them. And up until recently I didn't even really like them. Help. I'm becoming a potato addict and all I want to do is shovel these roasted potato bites in my mouth. By the dozen.
Must…eat.. more.. potatoes!
Okay, so maybe i've become a potato fiend lately because i'm a wittttttle bit stressed at the moment. We're at just over a week away from moving into a 2-bedroom and my kitchen is currently in boxes between my dining room and living room. And I cook for a living. So I pack something thinking i'm not going to need it except I end up needing it. And guess what? The darn little thing I need, it's allllll the way at the bottom of the box that i've not only packed, but sealed and then wrapped in plastic wrap and hot glued it. <– Okay, maybe i'm exaggerating a leetle biet.
Moving right along..
Let me tell you about these right here. Southwestern seasoned potato bites that are topped with melty sharp cheddar cheese and tossed with scallions then drizzled with crazy amounts of light ranch yogurt sauce. They're baked. Topped with a guilt free sauce. And a wee bit of cheese.
What's not to love?
Okay friends, I need to let you know right now, those little potato bites or wedges that you get when you order breakfast at a fancy shmancy brunch place, these are those. Except, those are fried. They have the same light seasoning on them, so technically you could make these for your honey bunny for a Valentine's Day breakfast and skip the scallions and ranch sauce. <– Or don't?
Ranch roasted potatoes for breakfast? I totally would, and wouldn't even think twice about it.
If you're not convinced yet that these roasted potatoes are just the bomb diggity, let me give you 3 perfect reasons why they just are:
1.) creamy, cool buttermilk ranch sauce over flavorful, hot, and crispy potato bites
2.) a guilt-free buttermilk ranch that's out of this world, like your fingers, delicious
3.)POTATOES.. as in FRIES.. in teeny weeny little wedges.. and they're BAKED
If for any reason you're still not convinced, read the above 3 reasons until you crave these ranch roasted potatoes, then go make yourself a batch!
Happy Friday, friends!
Yield: 4 servings
Cheesy Ranch Roasted Potatoes
Ranch roasted potatoes spiced with chili powder, garlic, and smoky cumin. These are roasted till they're golden and crispy, then topped with scallions, sharp cheddar cheese, and my ranch greek yogurt sauce! So good you just can't stop!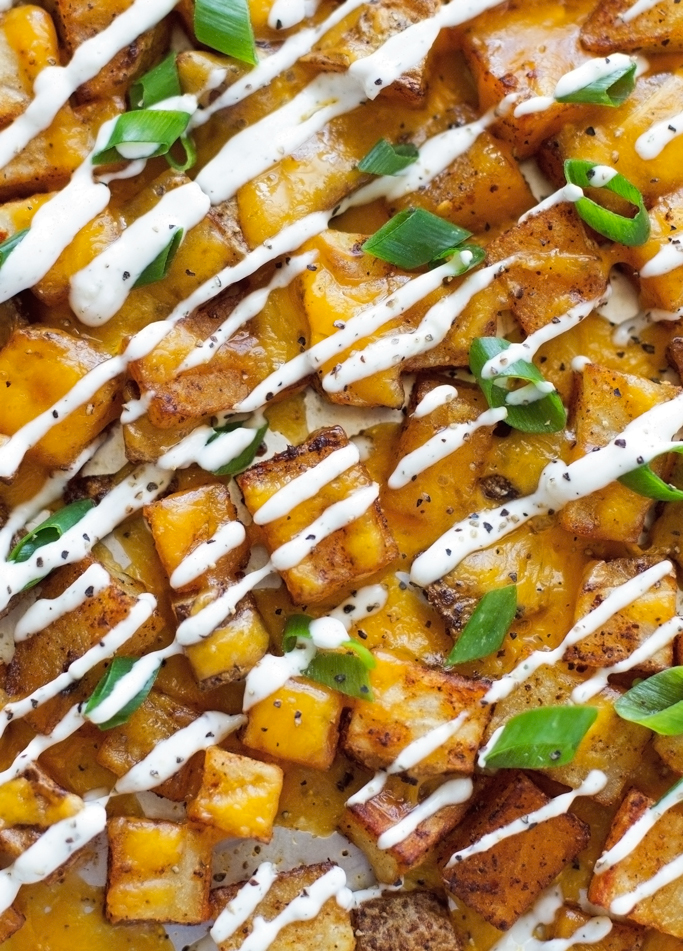 Ingredients
2 1/4 pounds russet potatoes, thoroughly washed and chopped into 3/4 inch dice
3 tablespoons olive oil
1/2 teaspoon chili powder
1/2 teaspoon garlic powder
1/2 teaspoon cumin
1/4 teaspoon red pepper flakes
salt + pepper
3/4 cup shredded sharp cheddar cheese
2 scallions, greens only, chopped
Ranch sauce:
1/2 cup greek yogurt
2 tablespoons full fat mayonnaise
2 tablespoon buttermilk
1 tablespoons ranch dip mix
Instructions
Place the potatoes in a large bowl cover with cold water, let sit for 30 minutes. Prepare the ranch sauce while you wait. Combine all the ingredients in a bowl and whisk until smooth.
Position a rack in the center of the oven and preheat the oven to 425ºF. Grease a large rimmed baking sheet with 1 tablespoon of olive oil. I used a pastry brush to help the process.
Drain the potatoes, rinse a few times with running water and pat dry with paper towel. Toss the potatoes in the remaining 2 tablespoons of olive oil. In a small bowl, combine the chili powder, garlic, cumin, red pepper flakes, a big pinch of salt and pepper. Sprinkle the seasonings on the potatoes, tossing as you go to ensure they're all seasoned.
Spread in a single layer onto the baking sheet, bake for 30-35 minutes, tossing half way in between using a thin metal spatula. Bring the potatoes to the center of the baking sheet and top with shredded cheese. Let the cheese melt in the oven for another 1-2 minutes. Top with scallions and drizzle with desired amount of ranch sauce. Serve immediately.
LOVE THIS RECIPE? KEEP IN TOUCH AND DON'T MISS OUT ON ANY OF LITTLE SPICE JARS RECIPES! FOLLOW ME ON
INSTAGRAM
,
PINTEREST
,
FACEBOOK
,
TWITTER
,
BLOGLOVIN'
, AND
TUMBLR
.
HAVE YOU TRIED ONE OF MY RECIPES? I'D LOVE TO SEE WHAT YOU'VE MADE! TAKE A PICTURE AND USE  THE HASHTAG
#LITTLESPICEJAR
ON INSTAGRAM SO I CAN SEE!
We are a participant in both the RewardStyle and Amazon Services LLC Associates Program, which are affiliate advertising programs designed to provide a means for sites to earn advertising fees by advertising and linking to amazon.com and through RewardStyle.