HEALTHY CHOCOLATE CHIP BANANA MUFFINS
This post may contain affiliate links. Please check our privacy and disclosure policy.
Healthy chocolate chip banana muffins are totally bikini-friendly! Made with bananas, chocolate chips, Greek yogurt, whole wheat flour, and coconut oil. Easy, low-fat, moist, and healthy muffins! 
Meet my newest breakfast obsession. Did I mention it's healthy?
You're right. I'm the same person that was talking about donuts on Monday. That was a weekend treat! Scouts honor. Summer is here and I am nowhere near ready for it.
Here in Texas it's at least 110 degrees everyday between June and September. That means no hiding behind turtlenecks and wide-leg yoga pants. Thats a pretty frumpy outfit, isn't it? Most definitely. After all the cookies and cupcakes i've been enjoying these past few months, it's time to reel it back in.
I'm not one to sacrifice flavor for healthy food, so if you're looking for a treat that pleases your tastebuds AND leaves wiggle room in your skinny jeans… boy have I got a treat for you.
What's so fabulous about today's healthy chocolate chip banana muffins?
√ They're made with 100% whole wheat flour (or white whole wheat is fine too)
√ 4 grams of fiber per muffin
√ Each muffin has less than 1/2 a tablespoon of oil (coconut oil so it's actually good for you)
√ We're using light brown sugar, no white sugar at all
√ We're packing in the protein with Greek yogurt
√ Vitamins from the bananas
√ Chocolate chips are optional (Replace with walnuts for a healthy banana nut muffin instead!)
So what are you waiting for? Let those bananas rot, pick up some chocolate chips (or don't), and lets get on it!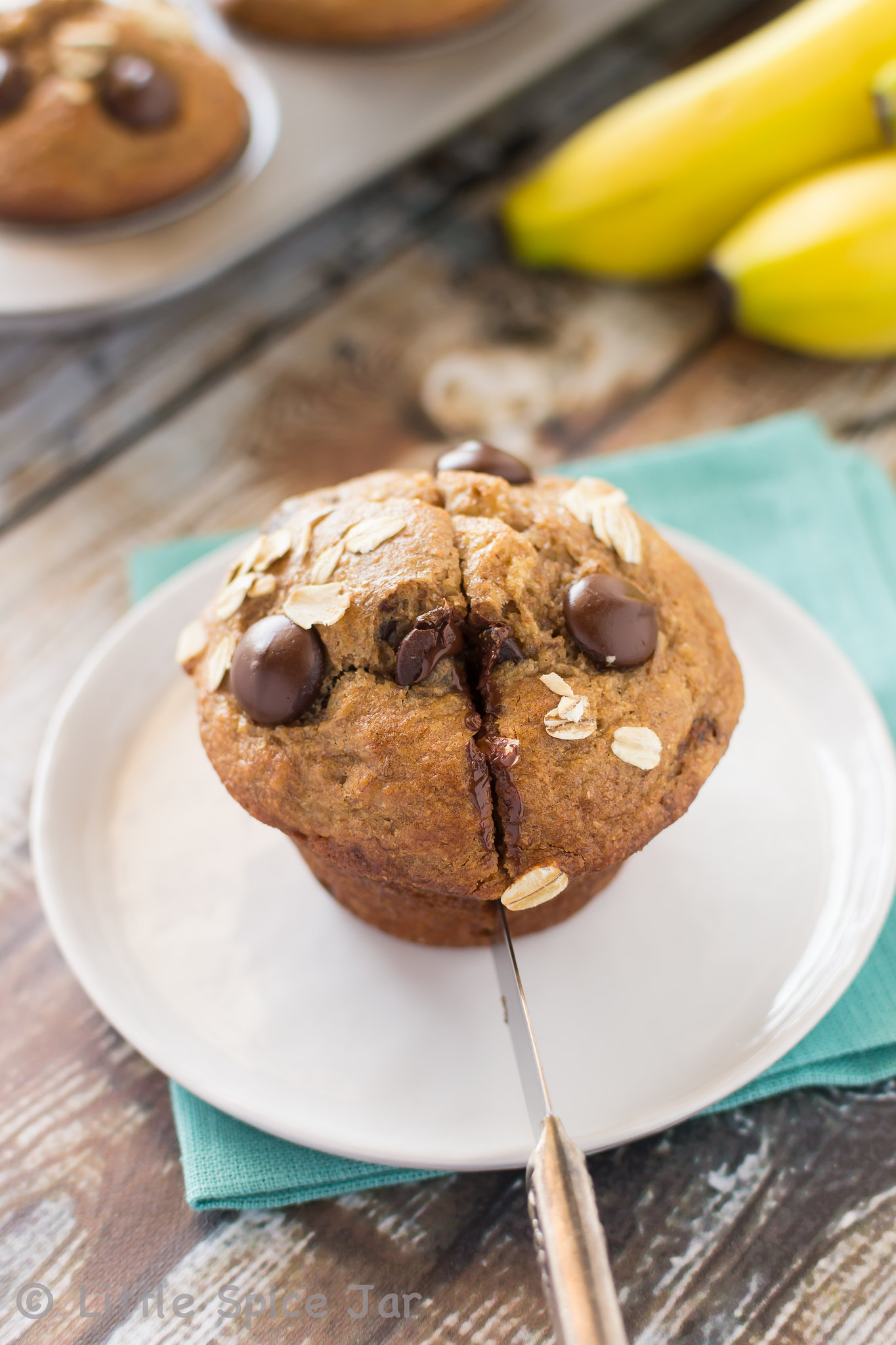 3 ingredients bring moisture (and of course, taste) to these muffins: greek yogurt combined with 1 1/2 cups of mashed ripe bananas and coconut oil. Using brown sugar also helps. Since this recipe calls for whole wheat flour (or white whole wheat), it's important to incorporate lots of moisture. Most low fat muffins tend to be on the dry side, which is a texture I cannot get on board with. In my book, hockey puck textured muffins are not acceptable!
Greek yogurt and coconut oil also keep my Super Moist and Healthy Carrot Cake Muffins soft, tender, and of course, healthy! Combined, these ingredients are my secret weapon to "skinny muffin recipes"!
I love you Healthy Chocolate Chip Banana Muffins. Let me count the ways you're so good to me: no mixer required, less than 30 minutes from start to finish, taste ridiculously amazing, we're using healthy fats, use brown sugar instead of white sugar, are moist, soft, and tender perfection. Did I mention they require just a few dishes to clean? Oh, and they freeze well too. Shut the front door!
Let me stop so you can get to baking!
Yield: 12 muffins
Healthy Chocolate Chip Banana Muffins
Healthy chocolate chip banana muffins are totally bikini-friendly! Made with bananas, chocolate chips, Greek yogurt, whole wheat flour, and coconut oil. Easy, low-fat, moist, and healthy muffins!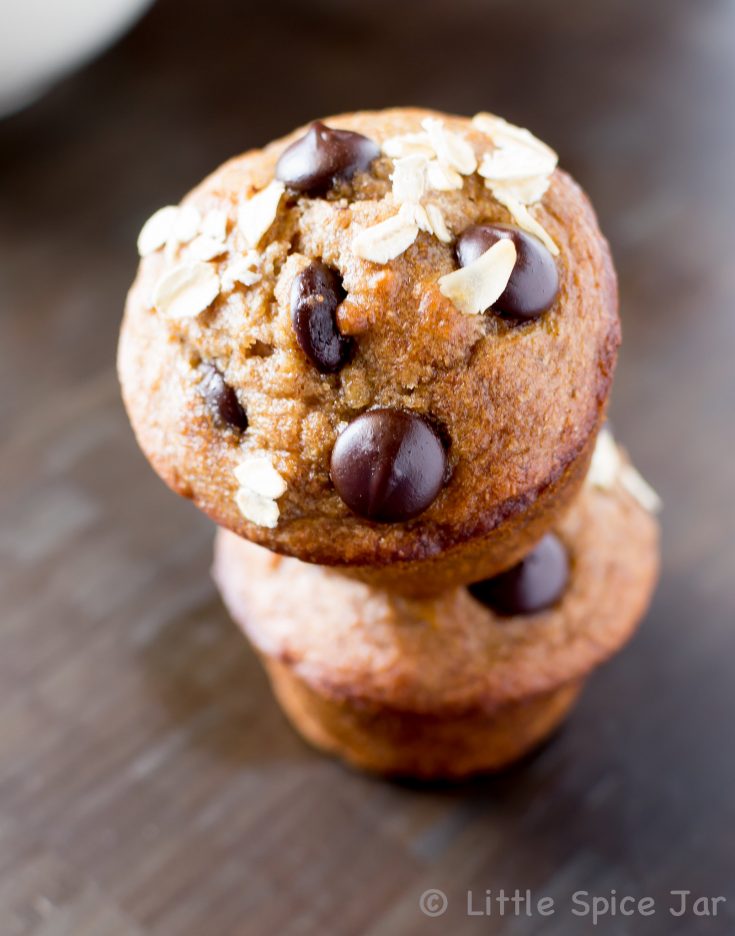 Ingredients
2 cups whole wheat flour (or white whole wheat)
1 teaspoon baking powder
1 teaspoon baking soda
1/4 teaspoon salt
1/2 teaspoon ground cinnamon
1 large egg
3/4 cup light brown sugar, packed
1/2 cup greek yogurt (I used 0% fat, any will do)
2 teaspoons vanilla extract
1 and 1/2 cups very ripe bananas, mashed with a fork
1/3 cup coconut oil, melted
1/2 cup bittersweet or semisweet chocolate chips (or more, they can also be replaced with nuts)
2 tablespoons rolled oats (optional)
Instructions
Place a rack in the center of the oven and preheat the oven to 350 degrees F. Spray a muffin pan with nonstick cooking spray, set aside.
In a large bowl, combine the flour, baking powder, baking soda, salt, and ground cinnamon. Whisk until just combined. Set aside.
In a medium bowl, combine the egg, light brown sugar, greek yogurt, vanilla extract, mashed bananas, and coconut oil. Using a spatula, mix until all the ingredients are combined. Slowly pour the wet ingredients into the dry ingredients.Gently begin to fold it all together. Work out any flour pockets but do not overmix the batter. Fold in the chocolate chips.
Divide the batter between 12 muffin tins, filling 3/4 of the way up the tin. Sprinkle with rolled oats if desired. Bake the muffins for 18 - 22 minutes or until a toothpick inserted in the center of the muffin comes out with just a few crumbs. Allow muffins to cool completely.
Notes
Muffins remain fresh and moist stored at room temperature for up to 3 days or in the refrigerator for 5 days. Muffins freeze well, up to 3 months.
If you like this recipe, you might also like:
Healthy Zucchini Muffins with Chocolate Chips
We are a participant in both the RewardStyle and Amazon Services LLC Associates Program, which are affiliate advertising programs designed to provide a means for sites to earn advertising fees by advertising and linking to amazon.com and through RewardStyle.