I would like to feed you extremely large bites of this cheesy garlic bread. It's simple. Cheesy. Garlicky. Carby… deliciousness.
There's a certain joy that comes from simplicity. The way a good cup of coffee can change your mood. The minute of silence you get when you've had a head spinning, crazy day. The sweet bliss that comes from a new pair of fuzzy socks. (Okay, maybe that's just me). You know, the kind of unadulterated happiness you feel when you find a twenty while you're doing your laundry. That kind.
This garlic bread is just that simple.
Let's talk good kitchen magic. Now, If I could only get that 'magic' to do the dishes.
Let's make quick cheesy garlic bread!
Combine dried parsley and italian seasonings together. This is probably as hard as its gonna get, folks!
Sprinkle the granulated garlic, sea salt, and parsley/italian seasoning mixture over the bread.
Bake the bread for 4-6 minutes or until cheese starts bubbling just slightly. You're gonna want to make extras, these will go lightning fast!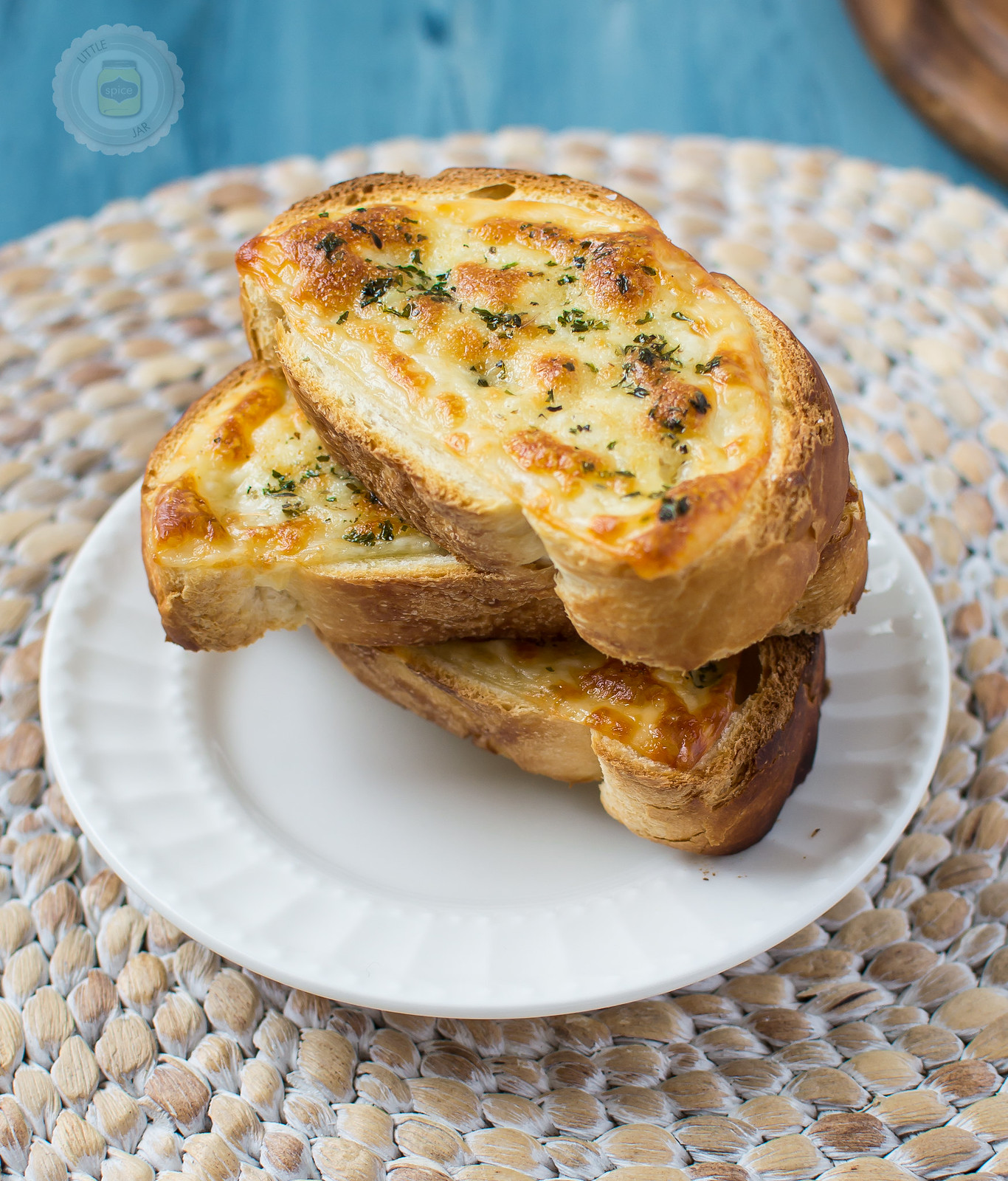 Ingredients
4 slices French bread (cut into 1-inch thick slices)
2 slices of Provolone Cheese (divid each into 2 pieces - semicircles)
1/8 teaspoon salt
1/8 teaspoon granulated garlic
1/8 teaspoon parsley
1/8 teaspoon Italian seasoning
Instructions
Place a rack in the center of the oven and preheat to 425 degrees F.
Place one of the cheese semicircles on the slice of french bread. Sprinkle a little bit of salt, granulated garlic, and a small pinch of parsley/Italian seasoning. Repeat on all slices.
Place on parchment lined baking sheet and bake for 4 - 6 minutes or until cheese starts to just bubble. Serve warm!
https://littlespicejar.com/easy-cheesy-garlic-bread/
© Copyright. Little Spice Jar